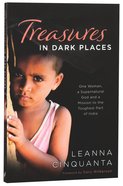 I was excited to read this book, hoping to learn more about the ministry of rescuing girls from being trafficked in India. However, I was surprised to learn that this book is more about the author's testimony than about her ministry. Her story is interesting and well written, if a bit more charismatic than I am comfortable with. She tells of how God pursued her and taught her through visions and dreams. Though I do believe God still speaks in these ways, I am hesitant to give God credit for everything I dream. Sometimes they are just myself speaking.
My favorite part of the book came at the conclusion, when the author finally dedicated a few paragraphs to the importance of her ministry. A story was told of a 7 year old who was tricked into going to a brothel to work, her family having been convinced she was going to a nice boarding school. After a year of surviving as a sex slave, she climbed her 4 story building and jumped off to end her life. I will leave you with an excerpt so you may better pray.
Thousands of little girls across north India languish in similar anger, waiting for someone to help them. India has been termed the "poisonous hub" of sex trafficking in Asia. The Ganges River area alone sees over 25,000 children trafficked annually. One researcher dubbed it the "touchstone of our success or failure in completing the task of world evangelization" with Christians numbering less than 2 percent of burgeoning three hundred million people.
To learn more about author Leanna Cinquanta and her ministry, click
HERE
.
I received this book from Chosen Books for this review.